RESPONSIBILITY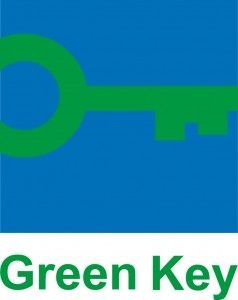 We were awarded the Green Key in May 2018. The Green Key is a sign of our commitment to improving our staff and customers' environmental awareness, our energy and water consumption efficiency, and reducing the environmental impact of the accommodation business.
We are in this together: all of our staff is involved in environmental work, we talk about the environmental work we do and its significance.
We serve locally produced and organic food at breakfast. Stewed organic oatmeal is delicious with berries from our own garden and organic milk. The breakfast eggs come from our own chicken coop. The bread is freshly baked in our kitchen, and most enjoyable with coffee, tea or home-made apple or berry juices. If you're very lucky, you'll get to try waffles made by the host, served with the farm's honey and apple jam.
Our chickens take care of any food waste. "Yesterday's bread is tomorrow's egg."
We use energy saving and LED lamps for lighting. At least 75% of our lamps fall under this category. Whenever we have to change a light bulb, we choose an environmentally-friendly option.
We aim to save water: in the kitchen, we do dishes in a smart and efficient way, and the majority of our premises are fitted with water-saving showerheads and taps.
All of our detergents are eco-friendly.
We sort our waste in a smart and efficient way – anything that can be reused is recycled.
We have reused old buildings and farms for our B&B business.
We are a LGBTQ business, and we also belong to the We speak Gay network. At Tuukkalan tila, equality means that we treat everyone with equal respect, regardless of their gender, age, ethnical or national origin, citizenship, language, religion or beliefs, opinions, disability, health status, sexual orientation or any other reason related to the person.